Welcome to a detailed look at the current range of Orange Bikes for the 2019 season. If you're trying to decide between models, we are here to dive into the tiny details to reveal what Orange Mountain Bike will be best suited for your riding. The variety of models in the Orange range mean that you're certain to find the right bike, whether that will be an enduro orientated big mountain smasher, a trail centre blaster or an all-day-peddler.
What is the Key Technology behind the latest models?
While each model has its own series of features and a unique personality, some features are carried right across the range such as the super sturdy aluminium frame to the single pivot rear suspension design.
Aluminium Frame?
When it comes to Orange, they know aluminium like the back of their hand. Over the years, they have become masters in aluminium and have perfected the art of getting high strength and low weight to marry and create bikes that make the most of the downhills while being no slouch on the climbs.
Single Pivot Suspension
Two bearing, one pivot. Orange Bikes are simplistic at their core and as a result, low maintenance. Designed in Britain and build in Britain, these bikes are truly reliable and built to take the test of time in the most demanding of conditions.
Orange Mountain Bikes 2019: Range overview
So when you first look at the range it's easy to get lost in understanding what the key differences are between the latest Orange Mountain Bikes. That's why we've put together a couple of infographics. The first infographic shows the wheel size found on the different models, while the second graphic highlights the type and style of riding best suited to each model.
Orange Mountain Bikes 2019: Differences in wheel size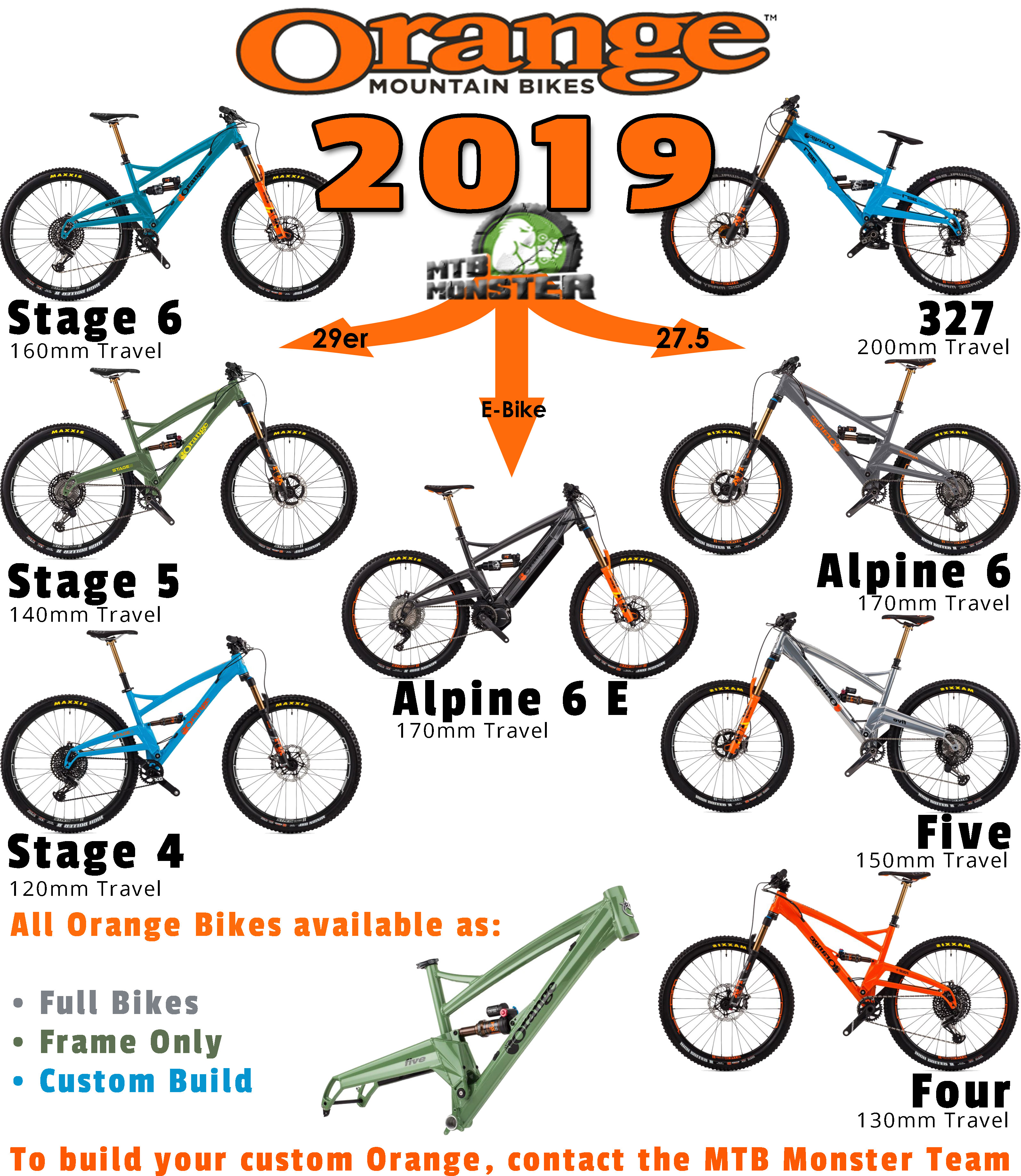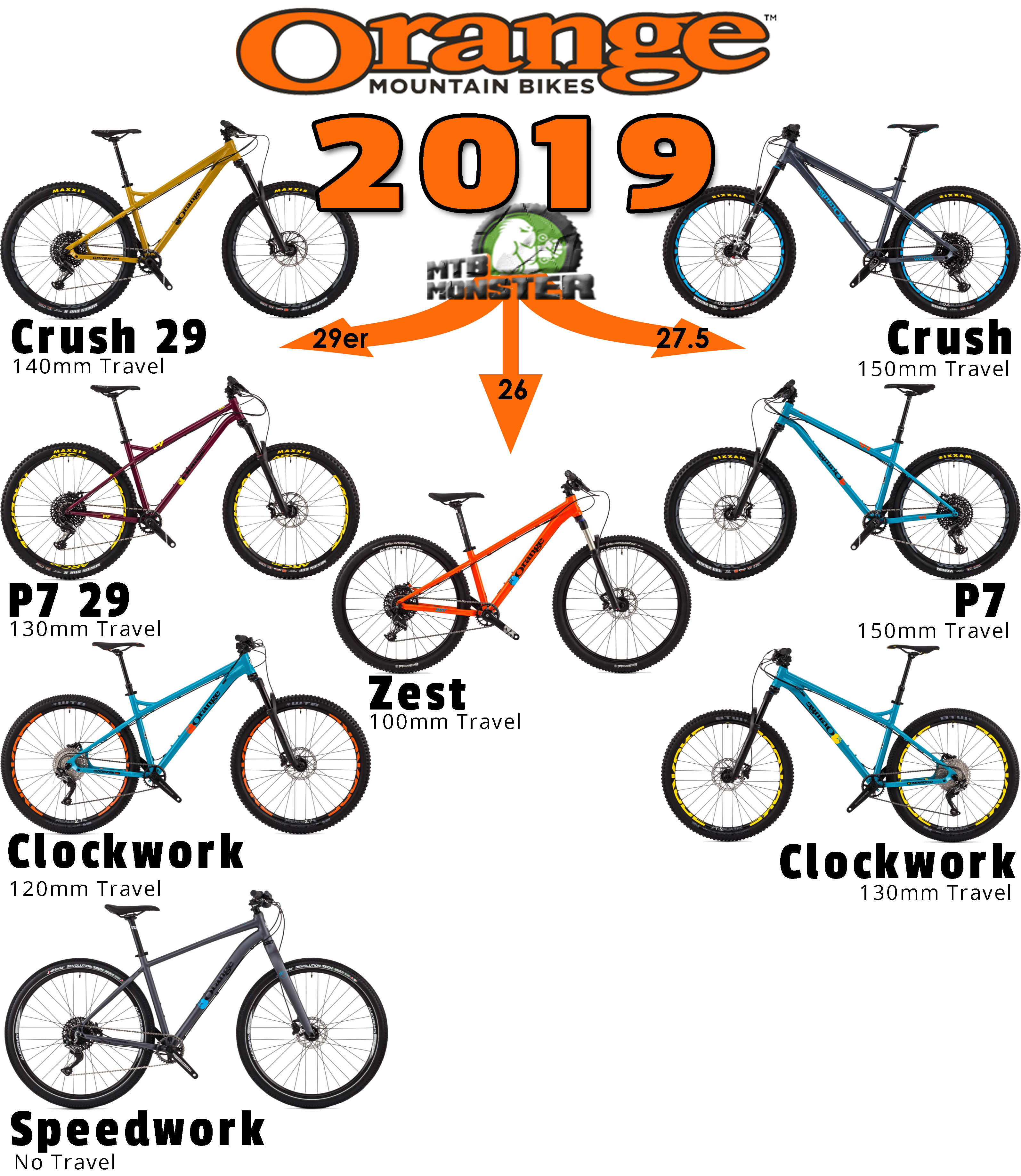 What Orange Mountain Bike is best suited to my riding style?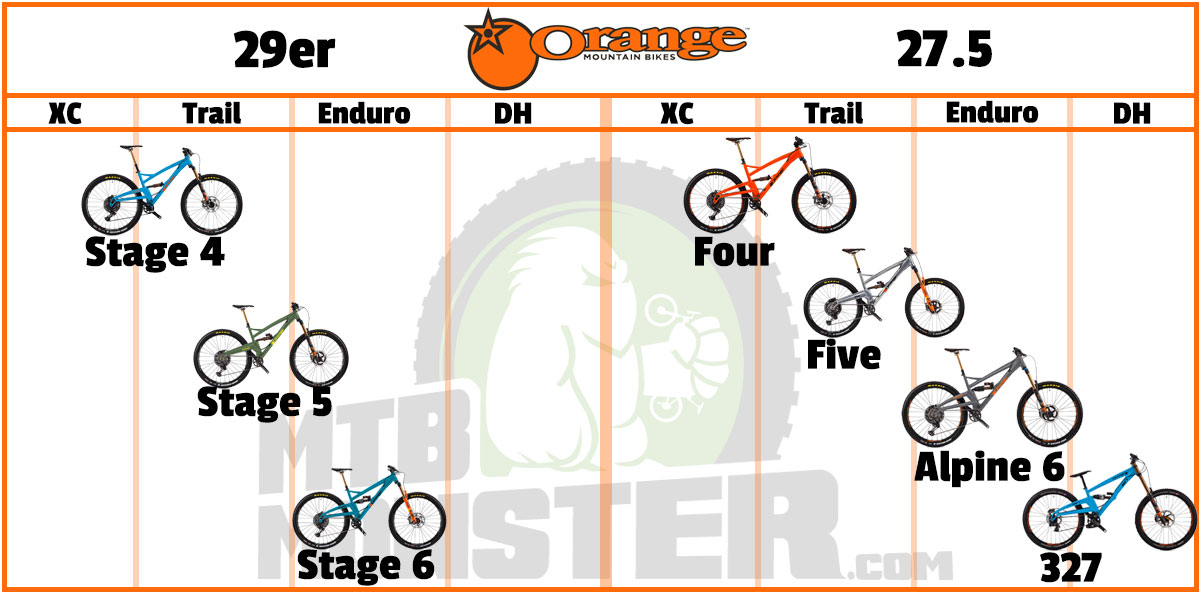 Decisions, Decisions...
Hopefully you will now have a good idea which bikes within the range is going to suit you best. The next step is to take a look at the models below and decide which variant of the model will work best for you. Within the range you will find comparison charts between the various models and we also offer full Orange Bikes Custom Builds if you are wanting to create a bike that is totally personalised.
The shop owner (Paul) currently rides the Orange Stage 5 and all the staff have spent time riding the Orange Bikes Range, so we can offer advice from first-hand experience. If you have any questions or queries, please give us a call or email us and we can chat through some options for you.
Browse the Range
While you can view the full range of Orange Bikes, you can also view the individual models by selecting from the icons below.